This year I started a MakerSpace in my middle schools and I have had lost of fun sharing the sandbox with the makers. We meet on Fridays after school for an hour and a half. Even after the first meeting, we all agreed that was not enough time. Makers are constantly making parents wait and breaking their creative flow because we have run out of time. We have met about 10 time now and the group keeps growing. I answer an email a week from parents asking about Makerspace and if it is too late to join. Our numbers are growing.
What is Makerspace?
This is a group of makers, inventors, tinkers and innovators who enjoy experimenting with how the world works. We will design, create, build, rebuild, experiment, and share digitally about the process of creating unique inventions. We will be experimenting with cutting edge technology such as the Makey Makey Arduino board, Raspberry Pi, the Drawdio (piano) circuit and many conductive materials We will learn to code with iPad apps such as Hopscotch and Kodable and also learn MIT's Scratch. Come invent with us!
Maker Mindset
We started the year off with a global cardboard challenge inspired by Imagination Foundation and Caine's Arcade. It is important that  the learners understand that being a maker goes beyond electronics and blinky lights. It is a mindset. Gary Stager (@garystager) and Sylvia LibowMartinez (@smartinez) wrote Invent to Learn, an incredible book about the maker movement and design thinking. The design cycle is how the makers approach their projects and designs.
This cycle was apparent when the makers began their cardboard challenge. They designed, built, played, redesigned, played and rebuilt. There were even makers that brought tape and cardboard to our Arcade Night to redesign their games in between people playing them. Parents, friends and administrators came to their Arcade Night and played their games. The makers were quite proud of their inventions.
We have recently started MaKey MaKey projects. Makers are experimenting with conductive materials, peripherals, and Scratch coding language. I have 10 MaKey MaKey boards, alligator clips, play-doh, tin foil, pencils, paperclips, conductive tape, conductive paint, wire, and folders. The makers have these things to use in any way they need. I also find the materials they need that I may not have.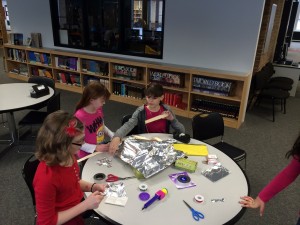 So far, the makers have conceived:
Simon pitch matching game – When you step on the pedal (folder and tin foil) Scratch plays the melody the makers coded. There are other color coded buttons that play single pitches that the player must play in the correct order.
This maker wants to customize his interface with Minecraft. He thought about his most used commands and is designing a temporary build to test his invention with the plans to create a more permanent controller in shop class.
There have been many iterations of piano stairs. These makers approached the principal about installing a piano staircase going down to their gym. They began their experimentation last week. They worked a bit with the makers of the Simon game to design the stair interface. They needed more than one pedal, so they cut up a folder to make a thin strips for each pedal.
Makers come up with interesting ways to use alligator clips to wire the MaKey MaKeys. These run to each stair to trigger a note on their piano.
Off to the stairs to start wiring. These makers went around to other groups to commandeer as many alligator clips as they could. Since then, they have decided to make their own leads with spools of wire. Hannah is logging into her Scratch account on my laptop to launch her piano stairs code.
By the time they began wiring the stairs, Makerspace was over. All of the others had gone home. These two young ladies asked if I would stay and called home to extend their time with the design cycle. We will continue the process next Friday.
I leave you with a performance of the UofM fight song. The interface is a play-doh piano designed, coded and performed by a fifth grade maker.