I use GarageBand for creating and capturing music almost daily. The interface is clean and I have become quite proficient with editing and manipulating audio. Usually, I am the one behind the computer pushing all of the buttons and making the technology a transparent piece of the music making. I need to be the one "driving" so the musicians can focus on the scenery more than the car controls. This year, after upgrading to Logic Pro X, my thinking has changed. Logic Remote is an iPad app for Logic Pro X on the Mac. Designed to provide new ways to record, mix, and even perform instruments in Logic Pro X from anywhere in the room. Turning your iPad into a keyboard, drum pad, guitar fretboard, mixing board, or transport control.
Download Logic Remote from the App Store here 
 Logic Remote can navigate inside Logic projects, control recording controls remotely, act as a second screen for the Mac, and also remotely trigger Logic Pro X key commands. The app also allows you to customizable buttons. Musicians can play instruments such as a piano keyboard, guitar fretboard, drum pads and drum kit. An awesome new feature is the addition of the Arpeggiator plugin to any instrument. Understanding that there are many ways of being musical has broadened my design of musical experiences. Experiencing audio is a unique way of being musical. I have accentually given the steering wheel (Logic Remote) to the musicians.
https://dl.dropboxusercontent.com/u/827002/Blog%20Media/songwriting%20piano.MOV
The above video is a beginning songwriting experience where a student musician is playing piano while other musicians are figuring out what can go with it. The pianist is playing a MIDI keyboard through Logic Pro X and another student is using the iPad with Logic remote to manipulate the controls. This has had quite an impact on the class culture. They have always taken ownership of their songs, but there has been a shift in the ownership of the craftsmanship. This became apparent to me when I gave the iPad to a student and we continued composing as a class. We stopped and discussed the harmonic progression. The class decided that the chords need to change at a different point in the melody. I asked the "engineer" to erase the track and take it back to the beginning. His reply was "Mr. M, I'm one step ahead of you." Let them drive. You may find that they get there before you do.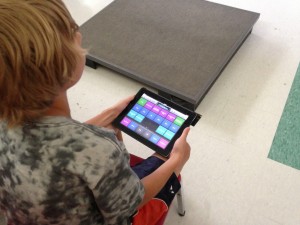 There are devices and apps that scaffold independence. Logic Remote is one of those.