Last night was such an incredible night of collaborative learning.
Eight teachers from 6 Oakland County School Districts sat in my living room and prepared for this upcoming school year. The dialogue was especially rich because there were so many disciplines represented. Classroom teachers, ELL teachers, Music and Art teachers from all levels were talking student experiences. These multiple perspectives provided some "ah-ha" moments as well as a common bond.
Since the Art teaches were the first to arrive, We began with exploring the Augmented Reality coloring app called colAR which I wrote about in an earlier post here.
We had a great time coloring and augmenting. The most meaningful take away for me was the conversation about a new way of approaching and interacting with art. It was interesting to hear the art teachers discuss the implications that adding another layer onto existing art would change the way artist could approach the artistic process. The way colAR uses the artists texture and strokes on the overlay. They continued to plan and wondered if there was going to be a way to augment an original piece. For now, they are limited to colAR's coloring sheets.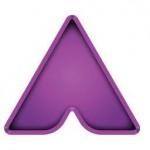 This augmented reality app sparked interest in other ways to augment in the classroom. The next app we explored was Aurasma. There are many teachers doing amazing things with this app including @TechBradWaid and @TechMinock at http://www.twoguysandsomeipads.com and I just read a great post from @KleinErin's blog www.kleinspiration.com about her idea of augmenting the Bella & Harry books with short supplemental social studies videos from the cover of the books. Brilliant. Read more here.
The AppStravaganza conversation continued with all of the wonderful ideas we had about supporting the learners' experiences with augmenting book covers, original pieces of art, translating school papers into another language and how this could be used in the music classroom. I have an app idea that would incorporate DAQRI cubes and Aurasma into a music composition experience. More on that later.
The interest of the group flowed to digital portfolios. There were a few teachers using Evernote, Three Ring and Artsonia already, so they shared their experiences.
I plan on using Three Ring in my music room to create a searchable portfolio for each musician. The tagging option allows you to curate by learning goal and by uploading recordings of musicians creating and performing music, this will allow me to show individual student growth over time as they engage in the authentic processes of musicianship. The student tab can also be made available to parents to share in their children's' music and growth. I have already been contacted by Three Ring to provide feedback on how I am going to keep track of 800+ students. Looking forward to the challenge.
The end of the evening concluded with how I use Socrative to formatively assess learners understanding.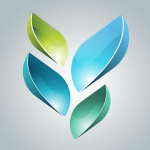 The feedback was tremendous. Here are comments from one a few teachers.
I'm going to mindfully venture more into utilizing technology more collaboratively in my room with my students. I'm really interested in the portfolio use…
I'm coming away from Mike's first Appstravaganza with an incredible enthusiasm for integrating technology into my teaching!  It's all do-able…it's just a matter of trying to fit it in and manage it. I'm thinking being able to capture the kids thinking, videoing them explaining their thinking would be both realistic and useful.
I loved learning about the Aurasma App and its potential uses for creating video artist statements embedded within student artwork.
Trying one thing at a time. Baby steps.
The was full of collaborative learning and sharing. Most were working and taking notes on their iDevices, but there was one teacher who was working on paper with a pen. How interesting it was that we all support out own thinking on different ways. Here is the result of the low-tech take away.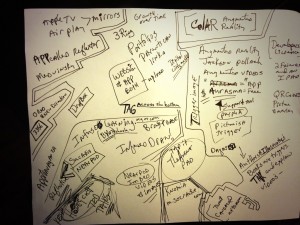 As we were wrapping the evening up, it was incredible that some of our building principals were following the #AppStravagamza hashtag and learning along with the building teachers.
As we stood around my dining room table eating a potluck of amazing food and laughing about all things school related, everyone wished that they had had a colleague with them, others enjoyed the idea of the casual style learning, others thought their thinking was pushed because of the multi-discplinary attendance, and others just liked drinking wine with friends. Overall, the decision was made that Medvinsky's AppStraviganza will become a monthly gathering of innovative teachers thinking and sharing together. Cant wait for next month.